system("./link_jobs.pl") !>

company profiles | company profiles detail

Intel Corporation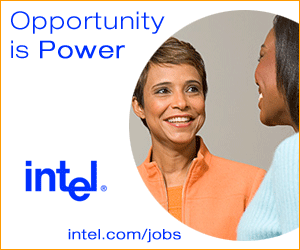 At Intel, we not only believe that people are the greatest investment in a company - we live it. Intelligence. Innovation. Creativity. Culture. These are principles that drive us. We're using these principles each day to create an inspiring workplace where inspiring ideas are rewarded. Discover why the Intel workplace is such a great place to work.
At Intel, our dedication to diversity and multiculturalism is put into practice each day. It can be seen in the lives of a global workforce of more than 78,000 employees in over 48 nations. And it can be felt by a continuing commitment to provide an inclusive workplace where unique perspectives, talents and skills are fostered. Discover how Intel values the ideas and experiences of each of our employees.
CORPORATE STATISTICS
Founded 1968
2003 Net Revenue: $30.1 billion
2003 Net Income: $7.5 billion
OPPORTUNITIES
Here's your chance to make an impact on the industry and your career by exploring the opportunities within the following areas:
Integrated Circuit (IC) Engineering
Integrated Circuit (IC) Manufacturing
Hardware Systems
Software Engineering
Information Technology
Human Resources
Marketing and Sales
Materials and Planning
Finance and Administration
U.S. LOCATIONS
Intel has opportunities in Chandler, Arizona; Folsom, California; Hillsboro, Oregon; Rio Rancho, New Mexico; Santa Clara, California; Colorado Springs, Colorado; Hudson, Massachusetts; and DuPont, Washington. While each setting is unique, all offer a balance of outdoor recreation and rich local culture.
We also have sites in Salt Lake City, Utah; Austin, Texas; Columbia, South Carolina; San Jose and Irvine, California, as well as field sales offices throughout the U.S.
COMPENSATION AND BENEFITS
Intel benefits from hiring talented professionals. And the talented professionals who work here are rewarded with an exceptional compensation and benefits package. Indeed, these benefits and some unique programs help to keep Intel consistently ranked among the best companies to work for in America. Our compensation and benefits programs include:
competitive salary and bonus programs
stock options and a stock purchase program
comprehensive benefits including medical, dental and retirement plans
employee development programs including Intel University
work-life effectiveness programs
paid sabbaticals and vacation
Intel would like to offer you an inside look at our company as a great place to work. As part of our dedication to diversity, we are proud to introduce Intel's Success Through Diversity Jobs at Intel Newsletter. The goal of this new monthly newsletter is to provide you with the information you need to better understand Intel's career opportunities, company culture, and employees - so you can find the job at Intel that's right for you.
In addition to regular feature articles, employee profiles, job search tools, reminders and resources for finding a job at Intel each newsletter also has three different Success Through Diversity feature articles. You can sign up for one, two, or all three. Our feature articles focus on different community groups at Intel such as: African Americans at Intel, Latinos at Intel and Women in Technology at Intel.
Click here to sign up and receive Intel's Success Through Diversity Newsletter today.
Intel and the Intel logo are registered trademarks of Intel Corporation. Intel Corporation is an equal opportunity employer and fully supports affirmative action practices. Intel also supports a drug-free workplace and requires that all offers of employment be contingent on satisfactory pre-employment drug test results.
Visit Intel's Web site.